Failed to add to cart. Contact customer service.
Product Error. Contact customer service.
485.00
EUR
In stock
Artforma












Bathroom led illuminated mirror with shelves L27
Free shipping
This product will be delivered before:
23.06.2023
View additional information by clicking on the button
Mirror with shelves
that meets your expectations
LED backlight

Practical lighting integrated into the bathroom mirror. No more inaccurate makeup. Natural light will make your daily toilet more pleasant and reduce energy consumption!

Shelf function

Functional bathroom equipment is extremely important, so our mirror with a shelf will help you keep your cosmetics in a safe and ergonomic place!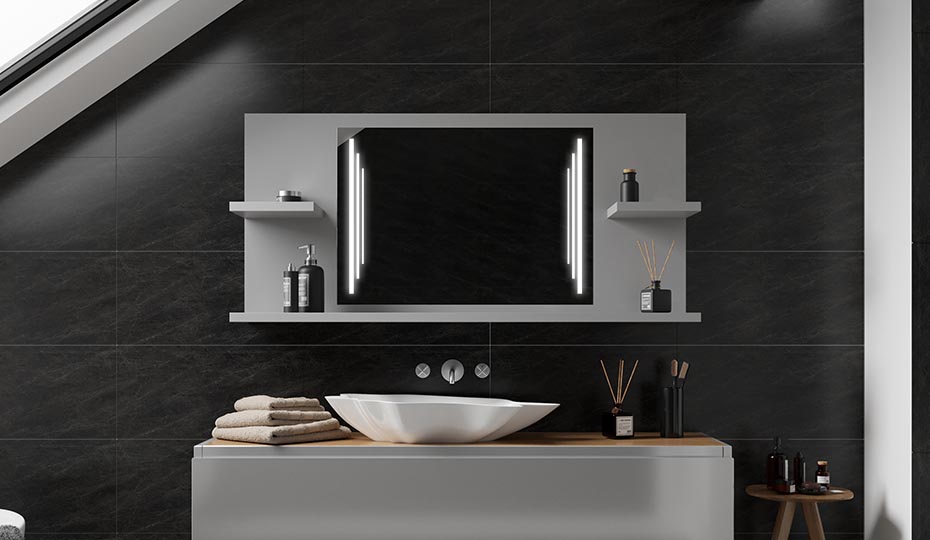 Color
Choose from 3 different cabinet décors to match your bathroom.

Luxurious and elegant finish:



Cosmetic Mirror
Remember how many times you stood in front of the mirror trying to draw the perfect line on your eyelid? We have a way to do that! The 3x magnifying cosmetic mirror integrated into the LED bathroom mirror will make sure your make-up is always perfect! This small gadget will quickly and effectively solve your morning face care problems
Touch Switch
Just touch the switch to quickly and intuitively turn on or off the LED light in your bathroom mirror!
Bluetooth speakers
Imagine the soothing sounds of your favourite music while taking a warm bath. Can you feel the relaxation and the tension coming off? Use the Bluetooth Speakers to play your favourite music, radio or podcasts from your smartphone. The range of the receiver is up to 10m.
Touch Clock
An touch clock in the bathroom mirror will show you the current time and help you control your daily routine!

- Size on mirror surface: 7 cm x 1,5 cm.
- The touch clock is illuminated regardless of the lighting of the mirror.
- The watch requires additional constant power supply.
Wi-Fi Weather Station
The Wi-Fi weather station will keep you up to date with the current time, temperature and weather in your location. Adapt your clothing to the conditions outside.

- Size on mirror sheet: 16 cm x 7 cm.
- Indicates the indoor temperature and the outdoor temperature (in Celsius or Fahrenheit).
- Wi-Fi Weather Station is illuminated independently of the mirror lighting.
- The station requires an additional permanent power supply. Otherwise, the station's settings will be reset after a power cut and the configuration process will have to be repeated.
Beveled Edges
Beveling is an elegant finishing of mirror edges. This solution allows the reflected light to create a crystal-like effect on the edges of the mirror.
Technical specifications
LED lifetime
Up to 15 000h
Number of LEDs and energy class
120 / m, Power consumptionA++
Thickness of the glass panel
4 mm
LEDs color
Cold White - 7000K
The set consists of
Mounting accessories
#Artforma_com
Mirror installed? Add a photo with the hashtag #Artforma_com to be among the thousands of satisfied customers!